Have you decided to start wearing a wig? Maybe you have been wearing one for a while and want to purchase a new one?
The decision to wear a wig is sometimes thrust upon us because of medical issues like cancer or alopecia and certain medical treatments that leave us with fine or extremely thin hair. In certain cases, some women decide to shave the remaining thin hair and wear a wig to maintain their appearance.
Things to Consider When Choosing a Wig for Older Women
There should be no shame in wearing a wig. Many young women are turning to wigs as trendy accessories to change their looks without rough handling their hair too much. According to a Report Linker forecast, "The global hair wigs and extension market is estimated to reach revenues of more than $10 billion by 2023, growing at a CAGR of approximately 9% during 2017-2023."

What Color Wig

This is a time where you can try different colors and possibly go a completely different color than the one you have been wearing for years, maybe even decades. You don't have to stick to grey or white wigs, but also keep in mind that some wigs are designed for a younger demographic.

Your ethnicity will also play a role in choosing the color and texture of your wig.

What Length Wig
Our hair tends to slow down the growing process as we get older. It also tends to get thinner and that is one reason why older women turn to wigs.

Nothing says that you have to wear your hair short and therefore choose a short wig. Choose a wig that fits you and your lifestyle. Think about the styling time that you want to spend on your wig and choose accordingly. Short wigs are typically easier to care for.
Quality and Price
Here is an industry with a wildly varied price range. The quality of the hair used to create the wig will influence the price of the wig.

Human hair wigs are the most expensive but also the best quality wigs. You can style natural hair wigs as you would your own hair and they look and feel more natural and real. Hair supplies from various parts of the world typically determine the price points.

High-end human hair wigs can go for anywhere between $2500 to $8000. But you can also find inexpensive ones starting at $200. But remember that you get what you pay for when it comes to wigs.

Synthetic hair wigs are more affordable but may look less natural and typically can't be styled as easily as natural hair wigs.

Best Wigs for Mature Women

We scoured the internet and read hundreds of reviews from women who wear wigs to put together a list that we think can direct you to some of the best wigs for older women on the market today.
The affordable Voltage synthetic hair wig is perfectly layered, feathered, and textured for a modern messy look. It's an easy-to-care-for "shake and go" style wig that is basically wearable straight out of the box. It's offered in a variety of colors, from pure white to dark chocolate.

This lace short bob wig is cut and styled to perfection, ready to wear. It's made of human hair at a very affordable price and has you covered with a customizable lace hairline, clips, and an adjustable strap.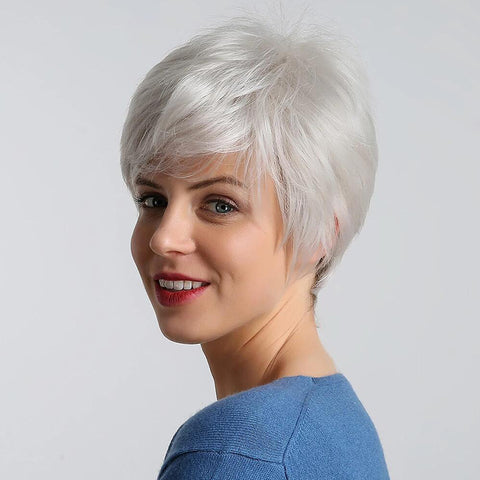 This Pixie Cut Wig 30% Human Hair Wig Mix Heat Resistant Synthetic Wigs
is very affordable, soft and smooth, and tangle-free.



Day or night, you'll be a breathtaking sight in this mid-length stunner. Wave after wave of texturized, shoulder-length tresses create a glamorous style that's all Hollywood. Soft, side-swept bangs gently skim the brows for flirty, face-framing finish. The open ear tabs allow you to wear glasses through small openings in the wig and over the fibers for a natural look.
This light and flirty style features textured ends and cascading layers delivering mid-length glam! This wig's wispy eyelash bangs take center stage when your hair is pulled back or let them flow for a natural and unrestricted look. Synthetic Lace Front Wig is a lightweight and flexible synthetic hair wig with a lace front and monofilament top that gives you a nearly invisible hair line. Plus, rest assured that with the Memory Cap III your wig won't shift a bit.




Sky is a best-selling, ready-to-wear synthetic wig . It looks and feels like natural hair. It features a face-flattering bob with feathered layers and wispy ends. From the thinned bang to the razored pieces around the border, you'll look effortlessly put together.


Mega combines super-light comfort with a flattering, below the shoulder cut that includes gently curled, all over layers and precision cut bangs.
Taking the lead amongst our human hair collection, Lindsi Luxury Cap Lace Top Wig is perfect at every angle. The versatility of this length and it's 100% human hair makes any look possible. The SmartLace technology and monofilament top enhances your look and makes it believable anyway you see it.

Do you wear a wig? Are you thinking of getting a wig? What is your most important feature when buying a wig? Tell us where you like to shop for your wigs. Let's talk about wigs in the comments below.